Title
Preview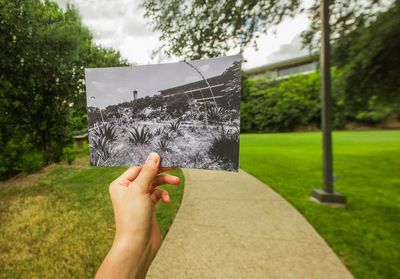 Description
This photograph was taken on the path behind Calvert Hall. Atop the hill to the right, pictured in the black-and-white and color photographs, is the old Student Union, now known as the Coates University Center (1952). The upper portion of Murchison Tower is visible in the background of the black-and-white picture as well. The combination of photographs demonstrates the dramatic changes to Trinity's landscape since the 1950s. Today, trees surround the tall staircase that leads up to Coates and grass covers the ground around the path. In the black-and-white photograph, however, the land is bare except for the cacti that surround the walkway. Cacti were often used at Trinity at midcentury.
In 1953, a year after moving to its new site, the University hired landscape architects Arthur and Marie Berger to create an innovative landscape design that integrated native plants and others appropriate to the climate and the conditions of south Texas with lawns and courts. With the help of many generous donors and university officials, the Bergers acquired thousands of dollars worth of plants to finish the landscape. This photograph illustrates the change from a characteristically south Texan landscape to one dominated by live oaks and St. Augustine grass.
Rights

This work is licensed under a Creative Commons Attribution-NonCommercial 3.0 Unported License.