Title
Preview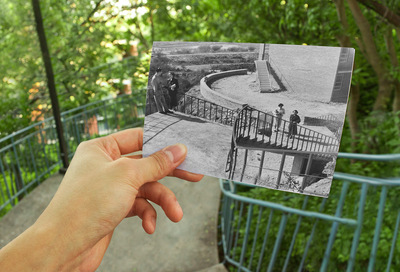 Description
The Cardiac Hill staircase has been an important passage for students moving between upper and lower campus since its construction and is one of the largest of Trinity's iconic outdoor concrete staircases. The black-and-white photo was taken before the completion of lower campus and the first year quad. In it even the land surrounding Murchison Residence Hall is not yet fully developed. Notice the drop in elevation just beyond the circular barrier and how barren this original landscape was when Trinity was first built.
Dinh's juxtaposition shows how Trinity transformed its site from a barren limestone quarry to a lush green campus while retaining connections to the landscape. The smooth concrete staircase provides contrast with the rough rocks and helps reveal the typography of the land. The gently curving walkway connects the Coates Esplanade and lower campus and in a sophisticated gesture that implicitly draws attention to the campus's geological history. The flat area at the bottom of the staircase now serves as an intersection of the paths that lead to upper campus, the freshman quad, and what is now the recreational and student services facilities.
Rights

This work is licensed under a Creative Commons Attribution-NonCommercial 3.0 Unported License.