Title
Preview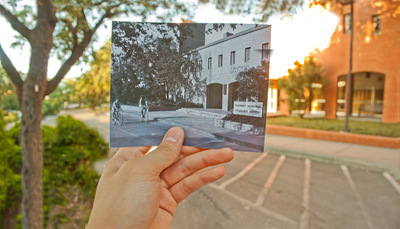 Description
The building in this image is the Chapman Memorial Center (1964), formerly known as the Chapman Memorial Graduate Center. It is located on the northwest side of upper campus. It used to be the home of all graduate classes and is now houses the departments of Philosophy, International Studies, Classical Studies, Health Care Administration, Economics, Religion, History, and Business Administration as well as a 180-seat auditorium and the Gold Room.
Chapman, along with many other Trinity University buildings, was designed by O'Neil Ford. Dinh's image captures the west facade of the building, with its arcade of segmental arches, which were typical of Ford's Trinity buildings from the 1960s. James A. and Leta M. Chapman greatly contributed to the building fund for Trinity during Dr. Laurie's presidency. In the older photograph two cyclists head south from a parking lot. Through the decades, the forms and landscape of the Chapman Center have generally stayed the same.
Rights

This work is licensed under a Creative Commons Attribution-NonCommercial 3.0 Unported License.