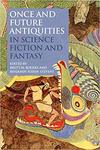 Title
Once and Future Antiquities in Science Fiction and Fantasy
Description
In 15 all-new essays, this volume explores how science fiction and fantasy draw on materials from ancient Greece and Rome, 'displacing' them from their original settings-in time and space, in points of origins and genre-and encouraging readers to consider similar 'displacements' in the modern world. Modern examples from a wide range of media and genres-including Philip Pullman's His Dark Materials and the novels of Helen Oyeyemi, the Rocky Horror Picture Show and Hayao Miyazaki's Spirited Away, and the role-playing games Dungeons and Dragons and Warhammer 40K-are brought alongside episodes from ancient myth, important moments from history, and more.
All together, these multifaceted studies add to our understanding of how science fiction and fantasy form important areas of classical reception, not only transmitting but also transmuting images of antiquity. The volume concludes with an inspiring personal reflection from the New York Times-bestselling author of speculative fiction, Catherynne M. Valente, offering her perspective on the limitless potential of the classical world to resonate with experience today.
Publisher
Bloomsbury Academic
Keywords
antiquity, antiquities, science fiction, fantasy, Saxa loquuntur, Wilhelm Jensen, Gradiva, time travel, Homer, Iliad, Jack McDevitt, Engines of God, Odyssey, Philip Pullman, His Dark Materials, Golden Compass, Subtle Knife, Amber Spyglass, Nostos, ancient Greek hero, Miyazaki, Spirited Away, Helen Oyeyemi, Figure of Atlas, Figures of Atlas, Rocky Horror, Rocky Horror Picture Show, Diana Wynne Jones, Time of the Ghost, Cassandra, Agamemnon, Continuum, Elf, Half-Elf, Cleric, D&D, Dungeons & Dragons, Gene Wolfe, Soldier of the Mist, Virgil, Aeneid, Warhammer 40K, minotaur
Disciplines
Arts and Humanities | Classics
Original Publication Information
Bloomsbury Academic
Recommended Citation
Rogers, B. M., & Stevens, B. E. (Eds.). (2019). Once and future antiquities in science fiction and fantasy. Bloomsbury Academic.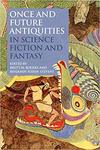 COinS