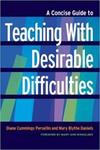 Title
A Concise Guide to Teaching With Desirable Difficulties
Description
This concise guidebook on desirable difficulties is designed to be a resource for academics who are interested in engaging students according to the findings of peer-reviewed literature and best practices but do not have the time to immerse themselves in the scholarship of teaching and learning.

Intentionally brief, the book is intended to: summarize recent research on five aspects of desirable difficulties; provide applications to the college classroom based on this research; include special sections about teaching strategies that are based on best practices; and offer annotated bibliographies and important citations for faculty who want to pursue additional study. The book will provide a foundation for instructors to teach using evidence-based strategies that will strengthen learning and retention in their classrooms.

In addition to chapters on the desirable difficulties, the book also includes chapters on teaching first-year and at-risk students to embrace this approach, on negotiating student resistance, and on using this approach in teaching online.
Publisher
Stylus Publishing
Keywords
desirable difficulties, teaching, peer-reviewed literature, first-year students, at-risk students
Disciplines
Arts and Humanities
Original Publication Information
Stylus Publishing
Recommended Citation
Persellin, D. C., & Daniels, M. B. (2018). A concise guide to teaching with desirable difficulties. Stylus Publishing.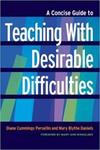 COinS