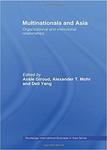 Title
Multinationals and Asia: Organizational and Institutional Relationships
Description
Adopting an international business perspective, this book surveys recent business developments in Asia, and the activities of multinational firms in the region, focusing in particular on the changing nature of organizational and institutional relationships, including intra- and inter- organizational relationships, business relationships with institutions, and relationships with stakeholders. The international team of contributors discuss the current and future trends in a wide range of business sectors across the region, as well as assessing how the nature of multinationals' activities in the region is changing as the business environment evolves and becomes more globalized.
Keywords
multinationals, international business, German-Chinese joint ventures, Asia, China, Vietnam, global transnational corporations, World Trade Organization, WTO, World Trade Organisation, intellectual property, intellectual property system, East Asian businesses, MNCs, sub-Saharan Africa host countries, South-East Asia host countries, stakeholder management, Europe, USA, German MNCs, globalization, globalisation, Japan, 'flexible' labor
Original Publication Information
Routledge
Recommended Citation
Giroud, A., Mohr, A. T., & Yang, D. (Eds.). (2005). Multinationals and Asia: Organizational and institutional relationships. Routledge.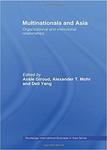 COinS