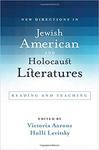 Title
New Directions in Jewish American and Holocaust Literatures: Reading and Teaching
Description
What does it mean to read, and to teach, Jewish American and Holocaust literatures in the early decades of the twenty-first century? New directions and new forms of expression have emerged, both in the invention of narratives and in the methodologies and discursive approaches taken toward these texts. The premise of this book is that despite moving farther away in time, the Holocaust continues to shape and inform contemporary Jewish American writing. Divided into analytical and pedagogical sections, the chapters present a range of possibilities for thinking about these literatures. Contributors address such genres as biography, the graphic novel, alternate history, midrash, poetry, and third-generation and hidden-child Holocaust narratives. Both canonical and contemporary authors are covered, including Michael Chabon, Nathan Englander, Anne Frank, Dara Horn, Joe Kupert, Philip Roth, and William Styron.
Publisher
State University of New York Press
Keywords
teaching, Jewish, American, Holocaust, Holocaust literature, Joe Kubert, Philip Roth, The Plot Against America, Michael Chabon, Yiddish Policemen's Union, Shema, Dara Horn, The World to Come, Midrash, Anne Frank, Nathan Englander, third-generation fiction, William Styron, Sophie's Choice, Saul Bellow, pedagogy
Disciplines
American Studies | Arts and Humanities | Jewish Studies
Original Publication Information
State University of New York Press
Recommended Citation
Aarons, V., & Levitsky, H. (Eds.). (2019). New directions in Jewish American and Holocaust literatures: Reading and teaching. State University of New York Press.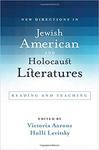 COinS