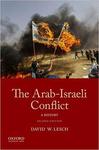 Title
The Arab-Israeli Conflict: A History
Description
Whether filtered through the media or through the classroom, the Arab-Israeli conflict has become a pervasive--and often misunderstood--subject of our contemporary cultural landscape. In this compelling new edition of The Arab-Israeli Conflict, widely respected scholar David W. Lesch presents the most balanced and accessible account of the conflict. Combining narrative history, primary sources, and informative analyses, The Arab-Israeli Conflict enables students to form their own educated opinions about complex and controversial issues.
Publisher
Oxford University Press
Keywords
Arab-Israeli conflict, Arab-Israeli relations, ideologies, World War I, WWI, Middle East, Palestine Mandate, Cold War, Cold Wars, Middle East matrix, independence, al-Nakba, 1967 earthquake, 1967, 1967 Arab-Israeli War, 1979, fallout, Lebanon, hope, 9/11, 9/11 aftermath
Disciplines
Arts and Humanities | History
Original Publication Information
Oxford University Press
Recommended Citation
Lesch, D. W. (2018). The Arab-Israeli conflict: A history (2nd ed.). Oxford University Press.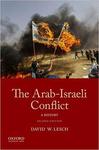 COinS