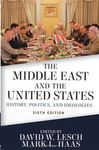 Title
The Middle East and the United States: History, Politics, and Ideologies
Description
The Middle East and the United States brings together scholars and policy experts to provide an empirical and balanced assessment of US policy in the Middle East primarily from the end of World War I to the present. Carefully edited by David W. Lesch and Mark L. Haas, this text provides a broad and authoritative understanding of the United States' involvement in the Middle East.
The sixth edition is significantly revised throughout, including a new part structure and part introductions that provide students with greater context for understanding the history of the United States and the Middle East. The five parts cover the watershed moments and major challenges the United States faces in the Middle East, from the Cold War proxy wars and the Arab-Israeli conflict, to the Gulf wars and the upheaval in the region post-Arab uprisings. Three new chapters-on the Golan negotiations, US-Saudi relations, and the US fight against al-Qa'ida and ISIS-make this the most current and comprehensive book on the United States' involvement in the Middle East
Keywords
Middle East, US, United States, North Africa, American Middle East Policy, Muslim world, muslim, King-Crane Commission, US foreign policy, foreign policy, Iran, Mussadiq, national security concerns, Egypt, 1957, 1957 American-Syrian Crisis, Syria, Cold War, Globalist policy, Nasser, Nasserist Pan-Arabism, Pan-Arabism, Soviet, USSR, Superpowers, 1967 Arab-Israeli War, Golan Negotiations, US-Syrian, Bush, Obama, Persian Gulf, Iraq, Saudi Arabia, Islamist, ideology, nuclear crisis, 9/11, Post 9/11, al-Qa'ida, Islamic State, Turkey, Arab Uprising, Arab Spring, Trump Administration
Disciplines
Arts and Humanities | History
Original Publication Information
Routledge
Recommended Citation
Lesch, D. W., & Haas, M. L. (Eds.). (2018). The Middle East and the United States: History, politics, and ideologies (6th ed.). Routledge.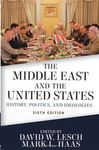 COinS