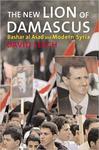 Title
The New Lion of Damascus: Bashar al-Asad and Modern Syria
Description
Is Syria a rogue state? How important is it to the fates of Iraq, Iran, Israel, and Lebanon? Based on unique and extraordinary access to Syria's President Bashar al-Asad, his circle, and his family, this book tells Syria's inside story. David W. Lesch presents the essential account of this country and its enigmatic leader at a critical juncture in the history of the Middle East.
Syria has been called the crossroads of civilization for millennia. Lately, however, it is a nation more in the crosshairs than the crossroads. From the U.S. perspective, Syria is on the wrong side of history with respect to Iraq, Israel, Lebanon, the global war on terrorism, and the growth of democracy in the Middle East. Bashar al-Asad assumed the presidency in 2000 after the long reign of his father, Hafiz al-Asad, and soon encountered momentous regional and international events. Bashar's efforts to integrate his country into this changing environment without being coerced have met with some success and some failure. The fate of Syria, very much tied to its young ophthalmologist-turned-president, will profoundly affect what type of Middle East emerges in the near future.
Publisher
Yale University Press
Keywords
Asad, Asads, Syria, Middle East, heir apparent, Damascus, rogue state, "rogue state", United States, US, "strategic choice for peace", Iraq, "the raw material is the brain"
Disciplines
Arts and Humanities | History
Original Publication Information
Yale University Press
Recommended Citation
Lesch, D. W. (2005). The new lion of Damascus: Bashar al-Asad and modern Syria. Yale University Press.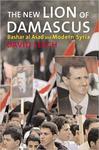 COinS