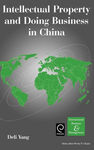 Title
Intellectual Property and Doing Business in China
Description
An intellectual property (IP) system was established in China in 1985. Since then, the merits and drawbacks of the system have become apparent in theory and practice. Despite the fact that a great deal has been written about the Chinese IP system, systematic studies of the subject are still scarce, especially from a corporate management perspective. The book has three aims. It evaluates the problems UK and US multinational enterprises have encountered in their IP flows into different enterprises in China. It also analyses the causes of these problems and suggests methods of avoiding future problems. The overall rationale for the book is to fill a void in our understanding of IP rights in China, particularly from a corporate perspective. It is important to draw upon a variety of discipline approaches when exploring these issues, which are influenced by the political context, the legislative framework, economic factors and the existence of cultural differences. The book is composed of ten chapters containing studies of related IP history, previous study on the area, and the current empirical survey. Major findings are discussed in later chapters of the book. In the conclusions, the book provides eleven suggestions for future practice for companies involved with IP flows.
Publication Date
5-29-2003
Keywords
intellectual property, china, 1985, intellectual property system, theory, practice, international enterprise, approaches, political context, economic factors, legislative framework, intellectual property history
Original Publication Information
Pergamon
Recommended Citation
Yang, D. (2003). Intellectual property and doing business in China. Pergamon.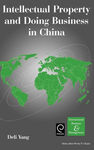 COinS