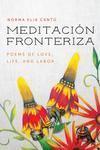 Title
Meditación Fronteriza: Poems of Love, Life, and Labor
Description
This collection is a beautifully crafted exploration of life in the Texas-Mexico borderlands. Written by Norma Elia Cantú, the award-winning author of Canícula, this collection carries the perspective of a powerful force in Chicana literature—and literature worldwide.

The poems are a celebration of culture, tradition, and creativity that navigates themes of love, solidarity, and political transformation. Deeply personal yet warmly relatable, these poems flow from Spanish to English gracefully. With Gloria Anzaldúa's foundational work as an inspiration, Meditación Fronteriza unveils unique images that provide nuance and depth to the narrative of the borderlands.

Poems addressed to talented and influential women such as Gwendolyn Brooks and Adrienne Rich, among others, pour gratitude and recognition into the collection. While many of the poems in Meditación Fronteriza are gentle and inviting, there are also moments that grieve for the state of the borderlands, calling for political resistance.
Publication Date
9-24-2019
Publisher
University of Arizona Press
Keywords
chicana, chicana literature, poems, poetry, Camino del Sol, love, solidarity, tradition, culture, political transformation, Spanish, English, bilingual poetry, borderlands
Disciplines
Arts and Humanities | Creative Writing
Original Publication Information
University of Arizona Press
Recommended Citation
Cantu, N. E. (2019). Meditación fronteriza: Poems of love, life, and labor. University of Arizona Press.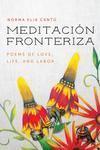 COinS