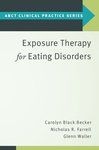 Title
Exposure Therapy for Eating Disorders
Description
Exposure Therapy for Eating Disorders is designed to augment existing eating disorder treatment manuals by providing clinicians with practical advice for maximizing the effectiveness of exposure, regardless of clinical background or evidence-based treatment used. Suitable for use with a range of diagnoses, this easy-to-use guide describes the most up to date empirical research on exposure for eating disorders, extrapolating clinical advice from the anxiety disorders literature in order to help busy clinicians become more effective in treating these challenging illnesses. Readers will gain solid understanding of the theoretical underpinnings of exposure therapy, as well as how to utilize this information to explain the rationale for exposure to patients. Specific types of eating disorder exposure are covered in detail, including exposure to food and eating, cue exposure for binge eating, weighing and weight exposure, novel forms of exposure for eating disorders, and more. The book also provides strategies for overcoming obstacles, including institutional resistance to implementation of exposure therapy.
Publication Date
12-16-2019
Publisher
Oxford University Press
Keywords
eating disorder, eating disorders, self-help, medical clinical psychology, 9780190069742, exposure therapy
Disciplines
Psychology | Social and Behavioral Sciences
Original Publication Information
Oxford University Press
Recommended Citation
Becker, C. B., Farrell, N. R., & Waller, G. (2019). Exposure therapy for eating disorders. Oxford University Press.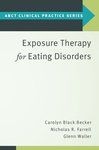 COinS