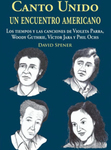 Title
Canto Unido, un Encuentro Americano: Los Tiempos y las Canciones de Violeta Parra, Woody Guthrie, Víctor Jara y Phil Ochs
Description
En casi 200 páginas, Canto unido expone los temas en común que hay en las canciones de Violeta Parra y Woody Guthrie y, por otra parte, entre Víctor Jara y Phil Ochs. La denuncia, el compromiso político, la oposición a la guerra y el abordaje de temas como el amor son analizados a través de canciones como "Porque los pobres no tienen", "El derecho de vivir en paz", "I'll be there" y "Changes", entre otras.

Sobre las coincidencias entre artistas chilenos y estadounidenses, Spener consideró que "tiene mucho que ver con el internacionalismo" y subrayó que "los cantores y artífices políticos de izquierda en Estados Unidos tenían una conciencia internacional, especialmente los que trabajaban por las luchas sindicales y los derechos civiles y en contra de la guerra de Vietnam. Sabían que había mucho activismo y solidaridad en otros países y a través de eso nos venían llegando canciones, obras de arte y poesías".

"En el libro, por ejemplo, describo cómo Phil Ochs llegó a conocer Chile durante los años de (Salvador) Allende, conoció a Víctor, fueron juntos a cantarle a los mineros de Sewell y los dos tenían canciones sobre Vietnam", detalló.
Publisher
Ediciones Radio Universidad de Chile
Keywords
United in Song, Violetta Parra, Woody Guthrie, Víctor Jara, Phil Ochs, songs, music, shared experience, I've Got to Know, Lo tengo que saber, Pastures of Plenty, Pastos de abundancia, exploitation, Yo canto la diferencia, I'll Be There, Estaré ahí, Lo único que tengo, There But for Fortune, Solo el destino, Móvil Oil Special, Mobile Oil Special, I'm Gonna Say It Now, Se lo voy a decir ya, Guerra y la Paz, Is There Anybody Here?, ¿Hay alguien aquí?, war, peace, love, students, reflection, estudiantes, guerra, paz, amor, reflexión, Changes, El cambio, Too Many Martyrs, Demasiados mártires, Legacy, When I'm Gone, Al irme, American peoples, This Land Is Your Land, Esta tierra es tuya, El martillo, Hammer Song, If I Had a Hammer
Disciplines
Arts and Humanities
Original Publication Information
Ediciones Radio Universidad de Chile
Recommended Citation
Spener, D. (2019). Canto unido, Un encuentro Americano: Los tiempos y las canciones de Violeta Parra, Woody Guthrie, Víctor Jara y Phil Ochs [United song, An American encounter: The times and songs of Violeta Parra, Woody Guthrie, Víctor Jara y Phil Ochs]. Santiago, Chile: Ediciones Radio Universidad de Chile.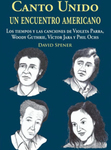 COinS