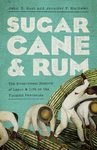 Title
Sugarcane & Rum: The Bittersweet History of Labor and Life on the Yucatan Peninsula
Description
While the Yucatán Peninsula of Mexico may conjure up images of vacation getaways and cocktails by the sea, these easy stereotypes hide a story filled with sweat and toil. The story of sugarcane and rum production in the Caribbean has been told many times. But few know the bittersweet story of sugar and rum in the jungles of the Yucatán Peninsula during the nineteenth century. This is much more than a history of coveted commodities. The unique story that unfolds in John R. Gust and Jennifer P. Mathews's new history Sugarcane and Rum is told through the lens of Maya laborers who worked under brutal conditions on small haciendas to harvest sugarcane and produce rum.
Gust and Mathews weave together ethnographic interviews and historical archives with archaeological evidence to bring the daily lives of Maya workers into focus. They lived in a cycle of debt, forced to buy all of their supplies from the company store and take loans from the hacienda owners. And yet they had a certain autonomy because the owners were so dependent on their labor at harvest time. We also see how the rise of cantinas and distilled alcohol in the nineteenth century affected traditional Maya culture and that the economies of Cancún and the Mérida area are predicated on the rum-influenced local social systems of the past. Sugarcane and Rum brings this bittersweet story to the present and explains how rum continues to impact the Yucatán and the people who have lived there for millennia.
Publisher
University of Arizona Press
Keywords
Latin America, agriculture, Mexico, archaeology
Disciplines
Social and Behavioral Sciences
Original Publication Information
University of Arizona Press
Recommended Citation
Gust, J. R., & Mathews, J. P. (2020). Sugarcane & rum: The bittersweet history of labor and life on the Yucatán peninsula. University of Arizona Press.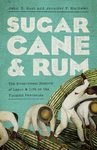 COinS