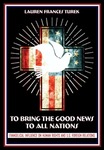 Title
To Bring the Good News to All Nations: Evangelical Influence on Human Rights and U.S. Foreign Relations
Description
When American evangelicals flocked to Latin America, Africa, Asia, and Eastern Europe in the late twentieth century to fulfill their Biblical mandate for global evangelism, their experiences abroad led them to engage more deeply in foreign policy activism at home. Lauren Frances Turek tracks these trends and illuminates the complex and significant ways in which religion shaped America's role in the late–Cold War world. In To Bring the Good News to All Nations, she examines the growth and influence of Christian foreign policy lobbying groups in the United States beginning in the 1970s, assesses the effectiveness of Christian efforts to attain foreign aid for favored regimes, and considers how those same groups promoted the imposition of economic and diplomatic sanctions on those nations that stifled evangelism.
Using archival materials from both religious and government sources, To Bring the Good News to All Nations links the development of evangelical foreign policy lobbying to the overseas missionary agenda. Turek's case studies—Guatemala, South Africa, and the Soviet Union—reveal the extent of Christian influence on American foreign policy from the late 1970s through the 1990s. Evangelical policy work also reshaped the lives of Christians overseas and contributed to a reorientation of U.S. human rights policy. Efforts to promote global evangelism and support foreign brethren led activists to push Congress to grant aid to favored, yet repressive, regimes in countries such as Guatemala while imposing economic and diplomatic sanctions on nations that persecuted Christians, such as the Soviet Union. This advocacy shifted the definitions and priorities of U.S. human rights policies with lasting repercussions that can be traced into the twenty-first century.
Publisher
Cornell University Press
Keywords
Christianity, International relations
Disciplines
Arts and Humanities
Original Publication Information
Cornell University Press
Recommended Citation
Turek, L. F. (2020). To bring the good news to all nations: Evangelical influence on human rights and U.S. foreign relations. Cornell University Press.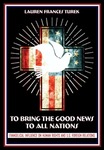 COinS