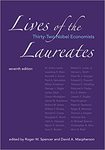 Title
Lives of the Laureates: Thirty-Two Nobel Economists
Description
Lives of the Laureates offers readers an informal history of modern economic thought as told through autobiographical essays by thirty-two Nobel Prize laureates in economics. The essays not only provide unique insights into major economic ideas of our time but also shed light on the processes of intellectual discovery and creativity. The accounts are accessible and engaging, achieving clarity without sacrificing inherently difficult content.
This seventh edition adds six Nobelists to its pages: Roger B. Myerson (co-recipient in 2007) describes his evolution as a game theorist and his application of game theory to issues that ranged from electoral systems to perverse incentives; Thomas J. Sargent (co-recipient in 2011), recounts the development of the rational expectations model, which fundamentally changed the policy implications for macroeconomic models; Amartya Sen (recipient in 1998) reflects on his use of a bicycle (later donated to the Nobel Museum) to collect data early in his career; A. Michael Spence (co-recipient in 2001) describes, among other things, his whiplash-inducing first foray into teaching an undergraduate class; Christopher A. Sims (co-recipient in 2011) discusses his "non-Nobel" research; and Alvin E. Roth (co-recipient in 2012) chronicles the "three insurrections" he has witnessed in mainstream economics.
Lives of the Laureates grows out of a continuing lecture series at Trinity University in San Antonio, which invites Nobelists from American universities to describe their evolution as economists in personal as well as technical terms.
Keywords
Economists, biography, Nobel Prize, Nobel Prize winners
Disciplines
Economics | Social and Behavioral Sciences
Original Publication Information
MIT Press
Recommended Citation
Spencer, R. W., & Macpherson, D. A. (Eds.). (2020). Lives of the laureates: Thirty-two Nobel economists (7th ed.). MIT Press.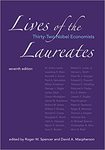 COinS