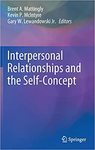 Title
Interpersonal Relationships and the Self-Concept
Description
This volume provides an overview of the theoretical and empirical work on relationship-induced self-concept change that has occurred over the last 10-15 years. The chapters in this volume discuss the foundations of relationship self-change, how and when it occurs, how it influences relationship decisions and behavior, and how it informs and modifies subsequent knowledge structures, all examined over the course of the relationship cycle (i.e., initiation, maintenance, and dissolution). Additionally, this volume identifies novel applications and extensions of the relationship self-change literature, including applications to health and behavior, intergroup relations, and the workplace.
Among the topics discussed:
Self-disclosure in the acquaintance process
Commitment readiness
Bolstering attachment security through close relationships
Self-concept clarity and self-change
The role of social support in promoting self-development
Relationship dissolution and self-concept change
Intergroup and sociocultural factors of self-expansion
Self-concept change at work
Measurement of relationship-induced self-concept change
Interpersonal Relationships and the Self-Concept serves both as a comprehensive overview of the existing empirical research as well as a roadmap for future research on self-change, including a discussion of emerging theoretical frameworks. It will interest researchers focusing on romantic relationships, self and identity, and the intersection of self and relationships, spanning the disciplines of psychology, sociology, communication, and family studies.
Keywords
relationships, self, self-concept, identity
Disciplines
Psychology | Social and Behavioral Sciences
Original Publication Information
Springer
Recommended Citation
Mattingly, B. A., McIntyre, K. P., & Lewandowski, G. W., Jr. (Eds.). (2020). Interpersonal relationships and the self-concept. Springer.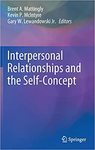 COinS