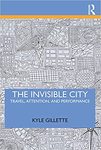 Title
The Invisible City: Travel, Attention, and Performance
Description
The Invisible City explores urban spaces from the perspective of a traveller, writer, and creator of theatre to illuminate how cities offer travellers and residents theatrical visions while also remaining mostly invisible, beyond the limits of attention.
The book explores the city as both stage and content in three parts. Firstly, it follows in pattern Italo Calvino's novel Invisible Cities, wherein Marco Polo describes cities to the Mongol emperor Kublai Khan, to produce a constellation of vignettes recalling individual cities through travel writing and engagement with artworks. Secondly, Gillette traces the Teatro Potlach group and its ongoing immersive, site-specific performance project Invisible Cities, which has staged performances in dozens of cities across Europe and the Americas. The final part of the book offers useful exercises for artists and travellers interested in researching their own invisible cities.
Written for practitioners, travellers, students, and thinkers interested in the city as site and source of performance, The Invisible City mixes travelogue with criticism and cleverly combines philosophical meditations with theatrical pedagogy.
ISBN
9780367134006, 9780367133979
Keywords
performing arts, history, criticism, architectural criticism, literary travel guides, religious travel guides
Disciplines
Arts and Humanities | Theatre and Performance Studies
Original Publication Information
Routledge
Recommended Citation
Gillette, K. (2020). The invisible city: Travel, attention, and performance. Routledge.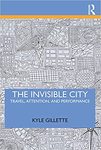 COinS