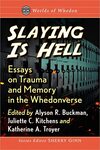 Title
Slaying is Hell: Essays on Trauma and Memory in the Whedonverse
Description
The films, television shows, and graphic novel series that comprise the Whedonverse continually show that there is a high price to be paid for love, rebellion, heroism, anger, death, betrayal, friendship, and saving the world. This collection of essays reveals the ways in which the Whedonverse treats the trauma of ordinary life with similar gravitas as trauma created by the supernatural, illustrating how memories are lost, transformed, utilized, celebrated, revered, questioned, feared, and rebuffed within the storyworlds created by Joss Whedon and his collaborators. Through a variety of approaches and examinations, the essays in this book seek to understand how the themes of trauma, memory, and identity enrich one another in the Whedonverse and beyond. As the authors present different arguments and focus on various texts, the essays work to build a mosaic of the trauma found in beloved works like Buffy the Vampire Slayer, Angel, Dollhouse, and more. The book concludes with a meta-analysis that explores the allegations of various traumas made against Joss Whedon himself.
Publication Date
11-28-2022
Keywords
Joss Whedon, criticism, interpretation, fantasy, television, science fiction, psychic trauma, memory on television
Disciplines
Arts and Humanities | Film and Media Studies
Original Publication Information
McFarland
Recommended Citation
Buckman, A. R., Kitchens, J. C., & Troyer, K. A. (Eds.). (2022). Slaying is hell: Essays on trauma and memory in the Whedonverse. McFarland.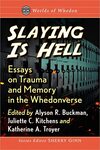 COinS