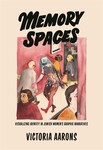 Title
Memory Spaces: Visualizing Identity in Jewish Women's Graphic Narratives
Description
An exploration of the work of Jewish women graphic novelists and the intricate Jewish identity is complicated by gender, memory, generation, and place-that is, the emotional, geographical, and psychological spaces that women inhabit. Victoria Aarons argues that Jewish women graphic novelists are preoccupied with embodied memory: the way the body materializes memory. This monograph investigates how memory manifests in the drawn shape of the body as an expression of the weight of personal and collective histories. Aarons explores Jewish identity, diaspora, mourning, memory, and witness in the works of Sarah Lightman, Liana Finck, Anya Ulinich, Leela Corman, and more.

Memory Spaces begins by framing this research within contemporary discourse and reflects upon the choice to explore Jewish women graphic novelists specifically. In the chapters that follow, Aarons relates the nuanced issues of memory, transmission of trauma, Jewish cultural identity, and the gendered self to a series of meaningful and noteworthy graphic novels. Aarons's insight, close readings, and integration of contemporary scholarship are conveyed clearly and concisely, creating a work that both captivates readers and contributes to scholarly discourse in Jewish studies, women's literature, memory studies, and identity.
Publication Date
5-9-2023
Publisher
Wayne State University Press
Keywords
Jewish comics, graphics narratives, Jewish identity, diaspora, women's narratives, Sarah Lightman, Liana Finck, Anya Ulinich, Leela Corman, Phoebe Potts
Disciplines
Arts and Humanities | Jewish Studies
Original Publication Information
Wayne State University Press
ISBN
9780814349144, 9780814349168
Recommended Citation
Aarons, V. (2023). Memory spaces: Visualizing identity in Jewish women's graphic narratives. Wayne State University Press.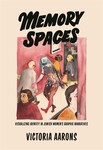 COinS