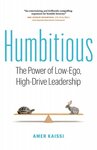 Title
Humitious: The Power of Low-Ego, High-Drive Leadership
Description
Arrogant. Charismatic. Narcissistic If you were to name traits that define strong leaders, these are some of the words that likely spring to mind. Conventional thinking would have us believe that it's those filled with hubris and free of self-doubt that make the best leaders. The evidence, however, tells quite a different story.

In Humbitious, professional speaker, executive coach and distinguished Trinity University professor Amer Kaissi shatters the common myths about leadership being an ego-driven game. Drawing on extensive research, personal stories, and fascinating historical examples of leadership done right (and wrong), Kaissi reveals why the most effective, high-performing leaders aren't those with the biggest egos, but who possess humility, coupled with ambition and drive.

Tracing triumphs (and missteps) of leaders from Napoleon Bonaparte to New Zealand Prime Minister Jacinda Ardern, Apple co-founder Steve Jobs to disgraced Theranos founder Elizabeth Holmes, soccer star Alex Morgan to Costco CEO Jim Sinegal, and others, Kaissi illuminates what true humility is—and what it isn't—and how to cultivate it within yourself and with others. As you gain insight into this critical leadership trait, you'll come to understand that humility requires ambition, courage, and fierce determination. Humility, you'll learn, isn't about false modesty; it's about being honest with yourself, and others, about your abilities and potential, so you can make a realistic plan for improvement.

The unequivocal truth is that the successful narcissists that you either know or are working for right now are the exception to the rule. The highest performers are those who adopt and integrate humility into their relationships with others, with their organizations, and with themselves. Because fortune favors not simply the bold—but the humbitious.
Publication Date
1-8-2022
Disciplines
Leadership Studies | Social and Behavioral Sciences
Original Publication Information
Two Page Press
Recommended Citation
Kaissi, A. (2022). Humitious: The power of low-ego, high-drive leadership. Two Page Press.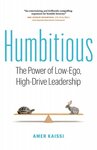 COinS