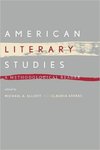 Title
American Literary Studies: A Methodological Reader
Description
American Literary Studies: A Methodological Reader gathers together leading scholars of American literature to address the questions of methodology that have invigorated and divided their field: the rise of interdisciplinarity and the wealth of theoretical methods now available to the critic of American literature. Their engagement with these issues takes a unique form in this book: Each scholar has chosen a methodologically innovative essay, which he or she then introduces, explaining why it is both exemplary in its approach and central to the issues that most engage American literary scholarship today. The book includes both an introduction to the controversial interdisciplinary methods that have made American literary studies such a vibrant field, as well as groundbreaking scholarship on topics as diverse as James Fenimore Cooper, minstrel songs, and Lakota Indian stories.
This volume has been designed to serve as a starting point for teachers and students to explore the fundamental questions of American literary scholarship: What does "method" mean in literary studies? Which texts should it study? What makes literary study unique? What should literary scholarship do? American Literary Studies argues that these questions can only be answered through a discussion of the interdisciplinary methods currently in use by scholars today. Finally, an original introduction by Michael A. Elliott and Claudia Stokes explains why questions of method are crucial to American literary studies and how past scholars of American literature have tried to answer them.
Contributors include: Lauren Berlant, Russ Castronovo, Wai Chee Dimock, Ann duCille, Michael A. Elliott, Frances Smith Foster, Elaine A. Jahner, Rob Kroes, Arnold Krupat, Paul Lauter, Marilee Lindemann, W. T. Lhamon, Jr., Christopher J. Looby, David Palumbo-Liu, Roy Harvey Pearce, Lora Romero, Ramón Saldívar, Carroll Smith-Rosenberg, Werner Sollors, Claudia Stokes, Claudia Tate, Paula A. Treichler, Priscilla Wald, Michael Warner, Laura Wexler, Sau-ling C. Wong.
Publisher
New York University Press
Keywords
American Literature, history, criticism, theory
Disciplines
Arts and Humanities | English Language and Literature
Original Publication Information
New York University Press
Recommended Citation
Elliott, M. A., & Stokes, C. (Eds.). (2003). American literary studies: A methodological reader. New York University Press.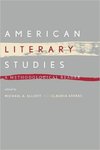 COinS