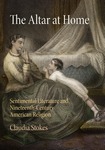 Title
The Altar at Home: Sentimental Literature and Nineteenth-Century American Religion
Description
Displays of devout religious faith are very much in evidence in nineteenth-century sentimental novels such as Uncle Tom's Cabin and Little Women, but the precise theological nature of this piety has been little examined. In the first dedicated study of the religious contents of sentimental literature, Claudia Stokes counters the long-standing characterization of sentimental piety as blandly nondescript and demonstrates that these works were in fact groundbreaking, assertive, and highly specific in their theological recommendations and endorsements. The Altar at Home explores the many religious contexts and contents of sentimental literature of the American nineteenth century, from the growth of Methodism in the Second Great Awakening and popular millennialism to the developing theologies of Mormonism and Christian Science.
Through analysis of numerous contemporary religious debates, Stokes demonstrates how sentimental writers, rather than offering simple depictions of domesticity, instead manipulated these scenes to advocate for divergent new beliefs and bolster their own religious authority. On the one hand, the comforting rhetoric of domesticity provided a subtle cover for sentimental writers to advance controversial new beliefs, practices, and causes such as Methodism, revivalism, feminist theology, and even the legitimacy of female clergy. On the other hand, sentimentality enabled women writers to bolster and affirm their own suitability for positions of public religious leadership, thereby violating the same domestic enclosure lauded by the texts.
The Altar at Home offers a fascinating new historical perspective on the dynamic role sentimental literature played in the development of innumerable new religious movements and practices, many of which remain popular today.
Publisher
University of Pennsylvania Press
Keywords
religion, literature, United States, history, 19th Century, Sentimentalism, Christianity, American Literature, women authors, criticism
Disciplines
Arts and Humanities | English Language and Literature
Original Publication Information
University of Pennsylvania Press
Recommended Citation
Stokes, C. (2014). The altar at home: Sentimental literature and nineteenth-century American religion. University of Pennsylvania Press.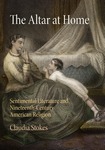 COinS