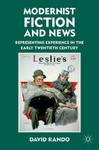 Title
Modernist Fiction and News: Representing Experience in the Early Twentieth Century
Description
Modernist Fiction and News characterizes modernism in terms of its intimate, creative, and experimental relationship with a newly reorganized and rapidly expanding news industry. Writers such as Gertrude Stein, James Joyce, John Dos Passos, and Virginia Woolf engage with the discourse and narratives of the news in order to establish an experimental space in which to represent experience with the hope of greater immediacy and faithfulness to reality.
Publisher
Palgrave Macmillan
Original Publication Information
Palgrave Macmillan
Recommended Citation
Rando, David. 2011. "Modernist Fiction and News: Representing Experience in the Early Twentieth Century." New York: Palgrave Macmillan.