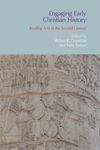 Title
Engaging Early Christian History: Reading Acts in the Second Century
Description
The book of Acts has traditionally been situated within a first-century setting, offering an apparently straightforward account of the origins and spread of Christianity. Engaging Early Christian History presents a significant departure for Christian origins studies by setting aside the explicitly historical questions commonly asked of the Acts of the Apostles and, instead, situating the text within the context of second-century history and culture. The volume extends scholarly debate beyond the analysis of pure historical debates and concerns to focus on the associations between Acts and the diverse contemporaneous texts, writers, and broader cultural phenomena in the second-century world of Christians, Romans, Greeks, and Jews. Examining the reception of Acts—and of Christian myth-making more generally—the volume explores the second century as a formative epoch for Christian storytelling, historical reimaginings, and reconfigurations of religious and social identities.
Keywords
Greco-Roman Literature, History, Bible, New Testament, Acts, Apocrypha, Pseudepigrapha
Disciplines
Arts and Humanities | Religion
Table of Contents
Reading Acts in the second century: reflections on method, history, and desire / Todd Penner -- Jerusalem destroyed: the setting of Acts / Milton Moreland -- Acts and the apostles: issues of leadership in the second century / Joseph B. Tyson -- Spec(tac)ular sights: mirroring in/of Acts / David M. Reis -- Acts of ascension: history, exaltation, and ideological legitimation / David R. McCabe -- Time and space travel in Luke-Acts / John Moles -- The complexity of pairing: reading Acts 16 with Plutarch's Parallel lives / Marianne Bjelland Kartzow -- Constructing Paul as a Christian in the Acts of the Apostles / Christopher Mount -- Bold speech, opposition, and philosophical imagery in Acts / Rubén R. Dupertuis -- Among the apologists? Reading Acts with Justin Martyr / Andrew Gregory -- The Second Sophistic and the cultural idealization of Paul in Acts / Ryan Carhart -- Reading Luke-Acts in second-century Alexandria: from Clement to the Shadow of Apollos / Claire Clivaz
Original Publication Information
Acumen
Recommended Citation
Dupertuis, R. R., & Penner, T. (Eds.). (2013). Engaging early Christian history: Reading Acts in the second century. Acumen.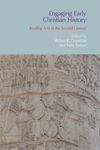 COinS