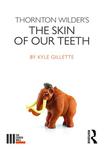 Title
Thornton Wilder's The Skin of Our Teeth
Description
Thornton Wilder's The Skin of Our Teeth (1942) telescopes an audacious stretch of western history and mythology into a family drama, showing how the course of human events operates like theatre itself: constantly mutable, vanishing and beginning again.
Kyle Gillette explores Wilder's extraordinary play in three parts. Part I unpacks the play's singular yet deeply interconnected place in theatre history, comparing its metatheatrics to those of Stein, Pirandello and Brecht, and finding its anticipation of American fantasias in the works of Vogel and Kushner. Part II turns to the play's many historic and mythic sources, and examines its concentration of western progress and power into the model of a white, American upper-middle-class nuclear family. Part III takes a longer view, tangling with the play's philosophical stakes.
Gillette magnifies the play's ideas and connections, teasing out historical, theoretical and philosophical questions on behalf of readers, scholars and audience members alike.
Publication Date
9-9-2016
Keywords
Thornton Wilder, The Skin of Our Teeth, drama, theatre, metatheatre, history, 20th century
Disciplines
Arts and Humanities | Theatre and Performance Studies
Table of Contents
Introduction -- Metatheatre -- Metahistory -- Metaphysics.
Original Publication Information
Routledge
Recommended Citation
Gillette, Kyle (2016). Thornton Wilder's The skin of our teeth. Abingdon, United Kingdom: Routledge.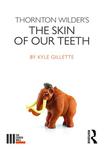 COinS