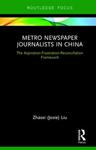 Title
Metro Newspaper Journalists in China: The Aspiration-Frustration-Reconciliation Framework
Description
This book explores how journalists at local metro papers in a south-western China metropolis give meaning to their work and how these meanings are shaped by the specific social environment within which these journalists operate. These metro papers provide the bulk of daily news to the general public in China, yet are often understudied compared to the country's party news outlets. Informed by fieldwork in four metro newspapers, the book puts forward a grounded theory for exploring journalists' occupational culture: the aspiration-frustration-reconciliation framework.
Keywords
journalism, China, reporters, Kunming, Metro, newspapers, media, communication
Disciplines
Communication | Social and Behavioral Sciences
Original Publication Information
Routledge
Recommended Citation
Liu, Z. (2017). Metro newspaper journalists in China: The aspiration-frustration-reconciliation framework. Routledge.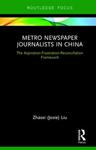 COinS