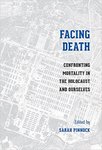 Title
Facing Death: Confronting Mortality in the Holocaust and Ourselves
Description
What do we learn about death from the Holocaust and how does it impact our responses to mortality today?
Facing Death: Confronting Mortality in the Holocaust and Ourselves brings together the work of eleven Holocaust and genocide scholars who address these difficult questions, convinced of the urgency of further reflection on the Holocaust as the last survivors pass away. The volume is distinctive in its dialogical and introspective approach, where the contributors position themselves to confront their own impending death while listening to the voices of victims and learning from their life experiences. Broken into three parts, this collection engages with these voices in a way that is not only scholarly, but deeply personal.
The first part of the book engages with Holocaust testimony by drawing on the writings of survivors and witnesses such as Elie Wiesel, Jean Améry, and Charlotte Delbo, including rare accounts from members of the Sonderkommando. Reflections of post-Holocaust generations-the children and grandchildren of survivors-are housed in the second part, addressing questions of remembrance and memorialization. The concluding essays offer intimate self-reflection about how engagement with the Holocaust impacts the contributors' lives, faiths, and ethics.
In an age of continuing atrocities, this volume provides careful attention to the affective dimension of coping with death, in particular, how loss and grief are deferred or denied, narrated, and passed along.
Publisher
University of Washington Press
Keywords
death, psychological aspects, personal narratives, mortality, Holocaust, Jewish, children of survivors
Disciplines
Arts and Humanities | Religion
Table of Contents
Holocaust victims speak; do we listen? / Leonard Grob -- Dying in the death camps as acts of defiance / H. Martin Rumscheidt -- At what cost survival? The problem of the prisoner-functionary / Lissa Skitolsky -- Witnessing unrelenting grief / Myrna Goldenberg -- Living for: Holocaust survivors and their adult children encounter death and mortality / Michael Dobkowski -- Bearing witness to a groteque land / Amy H. Shapiro -- Melding generations: a meditation on memory and mortality / Rochelle L. Millen -- Experiences of death: our mortality and the Holocaust / Sarah K. Pinnock -- A Jewish reflection on the Nazis' assault on death / David Patterson -- Auschwitz and Hiroshima as challenges to a belief in the afterlife: a Catholic perspective / Didier Pollefeyt -- Facing death: what happens to the Holocaust if death is the last word? / John K. Roth.
Original Publication Information
University of Washington Press
Recommended Citation
Pinnock, S. K. (Ed.). (2017). Facing death: Confronting mortality in the Holocaust and ourselves. University of Washington Press.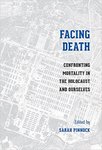 COinS