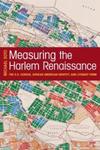 Title
Measuring the Harlem Renaissance: The U.S. Census, African American Identity, and Literary Form
Description
In this provocative study, Michael Soto examines African American cultural forms through the lens of census history to tell the story of how U.S. officialdom—in particular the Census Bureau—placed persons of African descent within a shifting taxonomy of racial difference, and how African American writers and intellectuals described a far more complex situation of interracial social contact and intra-racial diversity. What we now call African American identity and the literature that gives it voice emerged out of social, cultural, and intellectual forces that fused in Harlem roughly one century ago.
Measuring the Harlem Renaissance sifts through a wide range of authors and ideas—from W. E. B. Du Bois, Rudolph Fisher, and Nella Larsen to Zora Neale Hurston, Langston Hughes, and Wallace Thurman, and from census history to the Great Migration—to provide a fresh take on late nineteenth—and twentieth—century literature and social thought. Soto reveals how Harlem came to be known as the "cultural capital of black America," and how these ideas left us with unforgettable fiction and poetry.
Publisher
University of Massachusetts Press
Keywords
American literature, African American authors, Harlem Renaissance, United States, census, history, criticism, 20th century, Modernism
Disciplines
Arts and Humanities | English Language and Literature
Table of Contents
Introduction: The true measure of a renaissance -- Measure for measure for measure: three eras in American racial census taking -- Harlem society: practicing theory -- Harlem diversity: nations within a nation -- Harlem modernity: inventing the new Negro -- Harlem geography: race and the spatial imagination -- Epilogue: census geography and the burdens of representation -- Appendix: race/color categories employed by the U.S. Census, 1790/2010.
Original Publication Information
University of Massachusetts Press
Recommended Citation
Soto, M. (2016). Measuring the Harlem Renaissance: The U.S. Census, African American identity, and literary form. University of Massachusetts Press.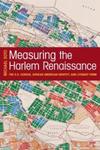 COinS