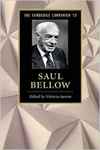 Title
The Cambridge Companion to Saul Bellow
Description
Saul Bellow is one of the most influential figures in twentieth-century American literature. Bellow's work explores the most important cultural and social experiences of his era: the impact of the Holocaust, the urban experience of European immigrants from a Jewish perspective, the fraught failures of the Vietnam War, the ideological seductions of Marxism and Modernism, and the changing attitudes concerning gender and race. This Companion demonstrates the complexity of this formative writer by emphasizing the ways in which Bellow's works speak to the changing conditions of American identity and culture from the post-war period to the turn of the twenty-first century. Individual chapters address the major themes of Bellow's work over more than a half-century of masterfully crafted fiction, articulating some of the most significant cultural experiences of the American twentieth century. It provides a comprehensive and accessible overview of a key figure in American literature.
Publisher
Cambridge University Press
Keywords
Saul Bellow, criticism, interpretation
Disciplines
Arts and Humanities | English Language and Literature
Table of Contents
Introduction : Saul Bellow in his times / Victoria Aarons -- Bellow's early fiction and the making of the Bellovian protagonist / Philippe Codde -- Seize the day : Bellow's novel of existential crisis / Hilene Flanzbaum -- Bellow's breakthrough : The adventures of Augie March and the novel of voice / Steven G. Kellman -- Bellow's cityscapes : Chicago and New York / Gustavo Sánchez Canales -- Bellow and the Holocaust / Victoria Aarons -- Humboldt's gift and Bellow's intellectual protagonists / S. Lillian Kremer -- On being a Jewish writer : Bellow's post-war American and the American Jewish diaspora / Alan L. Berger -- Bellow and his literary contemporaries / Timothy Parrish -- Women and gender in Bellow's fiction : Herzog / Paule Lévy -- Race and cultural politics in Bellow's fiction / Martín Urdiales-Shaw -- Bellow on Israel : To Jerusalem and back / Leona Toker -- Bellow's non-fiction : It all adds up / Sukhbir Singh -- Bellow's short fiction / David Brauner -- The late Bellow : Ravelstein and the novel of ideas / Leah Garrett.
Original Publication Information
Cambridge University Press
Recommended Citation
Aarons, Victoria, editor. The Cambridge Companion to Saul Bellow. Cambridge UP, 2017.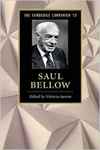 COinS