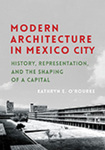 Title
Modern Architecture in Mexico City: History, Representation, and the Shaping of a Capital
Description
Mexico City became one of the centers of architectural modernism in the Americas in the first half of the twentieth century. Invigorated by insights drawn from the first published histories of Mexican colonial architecture, which suggested that Mexico possessed a distinctive architecture and culture, beginning in the 1920s a new generation of architects created profoundly visual modern buildings intended to convey Mexico's unique cultural character. By midcentury these architects and their students had rewritten the country's architectural history and transformed the capital into a metropolis where new buildings that evoked pre-conquest, colonial, and International Style architecture coexisted.
Through an exploration of schools, a university campus, a government ministry, a workers' park, and houses for Diego Rivera and Luis Barragán, Kathryn O'Rourke offers a new interpretation of modern architecture in the Mexican capital, showing close links between design, evolving understandings of national architectural history, folk art, and social reform. This book demonstrates why creating a distinctively Mexican architecture captivated architects whose work was formally dissimilar, and how that concern became central to the profession.
Publisher
University of Pittsburgh Press
Keywords
architecture, modern, society, Mexico, Mexico City, 20th century, buildings, structures
Disciplines
Arts and Humanities
Original Publication Information
University of Pittsburgh Press
Recommended Citation
O'Rourke, K. E. (2016). Modern architecture in Mexico City: History, representation, and the shaping of a capital. University of Pittsburgh Press.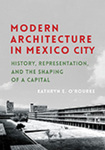 COinS