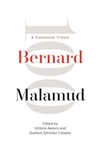 Title
Bernard Malamud: A Centennial Tribute
Description
Master storyteller and literary stylist Bernard Malamud is considered one of the top three most influential postwar American Jewish writers, having established a voice and a presence for other authors in the literary canon. Along with Philip Roth and Saul Bellow, Malamud brought to life a decidedly American Jewish protagonist and a newly emergent voice that came to define American letters and that has continued to influence writers for over half a century. This collection is a tribute to Malamud in honor of the hundredth anniversary of his birth. Literary critic Harold Bloom suggests that "Malamud is perhaps the purest storyteller since Leskov," the nineteenth-century Russian novelist and satirist. Novelist Cynthia Ozick, in a tribute to Malamud, described him as "the very writer who had brought into being a new American idiom of his own idiosyncratic invention."
Unlike other collections devoted to Malamud, this collection is international in scope, compiling diverse essays from the United States, France, Germany, Greece, and Spain, and demonstrating the wide range of scholarship and approaches to Bernard Malamud's fiction. The essays show the breadth and depth of this masterful craftsman and explore through his short fiction and his novels such topics as the Malamudian protagonist's relation to the urban/natural space; Malamud's approach to death; race and ethnicity; the Malamudian hero as modern schlemiel; and the role of fantasy in Malamud's fiction.
Bernard Malamud is a comprehensive collection that celebrates a voice that helped to shape the last fifty years of literary works. Readers of American literary criticism and Jewish studies alike will appreciate this collection.
Publisher
Wayne State University Press
Keywords
Bernard Malamud, criticism and interpretation, American literature, 20th century, postwar Jewish writers
Disciplines
Arts and Humanities | English Language and Literature
Table of Contents
Bernard Malamud, person and writer / by Paul Malamud -- Mediterranean / by Paul Malamud -- Introduction: "Moved by a Memory": Bernard Malamud's literary landscape / Victoria Aarons -- The beard makes the man: Bernard Malamud's A New Life / Leah Garrett -- "I shit my death"; from the provedential to the excremental in The Fixer / Holli Levitsky -- The jew as vampire in Bernard Malamud's The Fixer / Andrew M. Gordon -- Malamud's The Tenants and the problem of Ralph Ellison's second novel / Timothy Parrish -- Unbound and un-bodied: reading race in Malamud's The Tenants / Jessica Lang -- Midrash memory, and "Miracles or Near Miracles": Bernard Malamud's all-too-human project / Victoria Aarons -- Introduction: encountering Bernard Malamud through an I-Thou relationship / Gustavo Sánchez Canales -- Rethinking the discourse of suffering in Bernard Malamud's fiction / Pilar Alonso -- "What's in a name?": aptronyms and archetypes in Bernard Malamud's The Assistant and The Fixer / Gustavo Sánchez Canales -- Fixing Bernard Malamud's The Fixer through translation: from El Hombre de Kiev (1967) to El Reparador (2011) / Martín Urdiales Shaw -- Dostoevsky, Lawrence, Malamud: Malamud's heroes, facing the twin rejection of identity and sensuality / Rémi Astruc, translated by Alan Astro -- Writing on the edge of doom: theological reflections on Bernard Malamud's God's Grace / Till Kinzel -- Seeking the man behind the text or a biographical approach to Bernard Malamud's short stories / Emilio Cañadas Rodríguez -- Malamud's short fiction : angels and specters / Félix Martín Guttiérrez -- Bernard Malamud's and John Updike's art stories: the act of creation in "Still Life" and "Leaves" / Aristi Trendel -- Arthur Fidelman's aesthetic adventures and Malamud's poetics of creativity / Theodora Tsimpouki.
Original Publication Information
Wayne State University Press
Recommended Citation
Aarons, Victoria, and Gustavo Sánchez-Canales, editors. Bernard Malamud: A Centennial Tribute. Wayne State UP, 2016.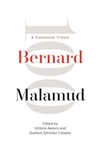 COinS