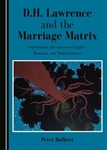 Title
D.H. Lawrence and the Marriage Matrix: Intertextual Adventures in Conflict, Renewal, and Transcendence
Description
This innovative study of eight major works of fiction by D. H. Lawrence examines the dominant presence of what is here termed a "marriage matrix." It reveals how this intense pattern of preoccupation not only structures the symbology and plot development of these powerful stories, but also consistently engages with such important subjects in Lawrence's life as depression, illness, friendship, renewal, transcendence, and impotence. As a compelling interpretation of Lawrence's craft and a provocative foray into the intimations of psychobiography, the book's notions of "synergistic criticism" integrate various approaches to this modernist writer to reveal provocative linkages between his visionary art and turbulent career and marriage. The volume contains well-grounded speculations on the sexual life of Lawrence and Frieda, on the oedipal residue of Lawrence's relation to his parents, on the complex friendships with Cynthia Asquith, J. Middleton Murry, and Katherine Mansfield, and on the theories of James Frazer, Sigmund and Anna Freud, James W. Pryse, Peter Ouspensky, and Norman Mailer. The Marriage Matrix also reproduces six paintings by Lawrence and one by Georgia O'Keeffe within pertinent discussions of Lawrence's practice and theory of visual art and how they further enhance the priorities of his fiction. To further contextualize the book's eclectic approach to impinging issues about the current province of research, teaching, and literature, the texts of two of the author's controversial presentations to the academy are also included, as well as relevant correspondence with the late writer, Norman Mailer, on the subject of Lawrence's genius and influence.
Publisher
Cambridge Scholars Publishing
Keywords
D. H. Lawrence, David Herbert, criticism and interpretation, psychology, psychobiography
Disciplines
Arts and Humanities | English Language and Literature
Original Publication Information
Cambridge Scholars Publishing
Recommended Citation
Balbert, P. (2016). D.H. Lawrence and the marriage matrix: Intertextual adventures in conflict, renewal, and transcendence. Cambridge Scholars Publishing.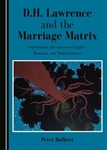 COinS