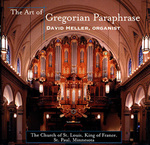 Title
The Art of Gregorian Paraphrase
Publisher
Calcante Recordings
Keywords
organ music, Gregorian chant, plainsong, paraphrase technique, Church of St. Louis, King of France, St. Paul, Minnesota, Laura L'Allier and Raymond Houle Memorial Organ, Casavant Frère opus 3762
Disciplines
Arts and Humanities | Music
Table of Contents
Hymne d'actions de grâces "Te Deum" / Jean Langlais -- Kyrie summum / Heinrich Scheidemann -- Meine Seele erhebt den Herren : Fuge über das Magnificat, BWV 733 / Johann Sebastian Bach -- Pange lingua / Nicolas de Grigny -- In Festo Corporis Christi / Anton Heiler -- Prelude on "Iam sol recedit igneus" / Bruce Simonds -- Incarnation suite on "Puer natus est nobis" / Joel Marinson -- Chorale-Improvisation sur le "Victimae paschali" / Charles Tournemire ; transcribed by Maurice Duruflé.
Original Publication Information
Calcante Recordings
Recommended Citation
Langlais, J., Scheidemann, H., Bach, J. S., de Grigny, N., Heiller, A., Simonds, B., . . . Tournemire, C. (2000). The art of Gregorian paraphrase [Recorded by D. Heller; CD]. Ithaca, NY: Calcante.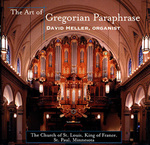 COinS