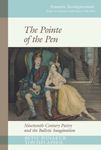 Title
The Pointe of the Pen: Nineteenth-Century Poetry and the Balletic Imagination
Description
Originally a courtly art, ballet experienced dramatic evolution (but never, significantly, the prospect of extinction) as attitudes toward courtliness itself shifted in the aftermath of the French Revolution. As a result, it afforded a valuable model to poets who, like Wordsworth and his successors, aspired to make the traditionally codified, formal, and, to some degree, aristocratic art of poetry compatible with "the very language of men" and, therefore, relevant to a new class of readers. Moreover, as a model, ballet was visible as well as valuable. Dance historians recount the extraordinary popularity of ballet and its practitioners in the nineteenth century, and The Pointe of the Pen challenges literary historians' assertions - sometimes implicit, sometimes explicit - that writers were immune to the balletomania that shaped both Romantic and Victorian England, as well as Europe more broadly. The book draws on both primary documents (such as dance treatises and performance reviews) and scholarly histories of dance to describe the ways in which ballet's unique culture and aesthetic manifest in the forms, images, and ideologies of significant poems by Wordsworth, Byron, Shelley, and Barrett Browning.
Publisher
Liverpool University Press
Keywords
poetry, ballet, balletic imagination, pointe, Wordsworth, Byron, Shelley, Browning, English poetry, 19th century
Disciplines
Arts and Humanities | English Language and Literature
Original Publication Information
Liverpool University Press
Recommended Citation
Tontiplaphol, B. W. (2021). The pointe of the pen: Nineteenth-century poetry and the balletic imagination. Liverpool University Press.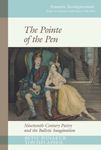 COinS